Description
Jesus Carries Me 2019 Graphic
Personal Use License for Digital Downloads
I hope you enjoy this graphic for making just a simple sticker for your planner pages, a planner dashboard, bookmark or planner cover! ***watermark removed from final download***
!!THERE WILL BE NOTHING SHIPPED TO YOU!!
Personal Use License for Digital Downloads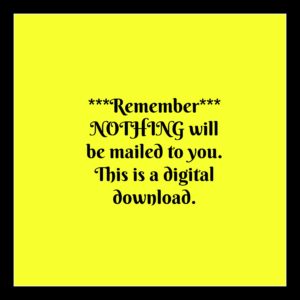 ===================================
ADDITIONAL NOTES
===================================
Please also know that although every effort is made to photograph my items accurately, color may differ slightly from photos due to different monitor settings. Please contact me with any questions about the color or size of any item BEFORE purchasing.
NO REFUNDS ON DIGITAL DOWNLOADS
Personal Use License for Digital Downloads
Inspirational Pink, LLC/Plan To Blossom ("Content Provider") grants buyer a non-exclusive perpetual personal-use license to download and copy the accompanying image(s) or video(s) (collectively, "Media,") subject to the following restrictions:
This license is for personal use only. Personal use means non-commercial use of the Media for display on personal websites and computers, or making image prints or video copies for personal use. The Media may not be used in any way whatsoever in which you charge money, collect fees, or receive any form of remuneration. The Media may not be used in advertising. The Media may not be resold, relicensed, or sub-licensed.
Title and ownership, and all rights now and in the future, of and for the Media remain exclusively with the Content Provider.
There are no warranties, express or implied. The Media are provided 'as is.'
Neither Content Provider nor Inspirational Pink, LLC will be liable for any third party claims or incidental, consequential or other damages arising out of this license or buyer's use of the Media.
All photographs and printable products appearing on this site are the property of Inspirational Pink, LLC. They are protected by U.S. Copyright Laws, and are not to be downloaded or reproduced in any way without the written permission of Inspirational Pink, LLC.
Copyright 2016 Inspirational Pink, LLC, All Rights Reserved.
Thank you