The journey of starting my own business is great and I am happy to say that I am a planner! I love adding things to my planner, listing on my to-do list only to cross things off! Ahhhhhh, it gives me a sense of accomplishment. You know that feeling of having a dream, setting a goal, and breaking everything down into actionable steps and tracking your progress? Yes, it is indeed a wonderful thing. Then, there is that moment when you find yourself feeling a bit stressed, uh oh, wait what did I forget? I did everything in my planner and got much crossed off my to-do list. Me and God are close and I LOVE HIM!! I'm in my word… I'm on target in my work, so why am I feeling blah? What could it be? What is missing?
"There is nothing better for a person than that he should eat and drink and find enjoyment in his toil. This also, I saw, is from the hand of God," -Ecclesiastes 2:24
Oh YES!!! I forgot to add FUN to my calendar! As much as we love to plan and get things done, nothing can replace good old fashioned laughter and fun. Do you have a FUN DAY on your calendar or in your planner? That is a day at least twice a month that you have blocked off to do something Fun and enjoyable that has NOTHING to do with your work. I know many of us feel if we are not 100% engaged in our business 100% of the time, it will all go to pieces. Well I'm telling you that if you have your business set up so that it cannot prosper without you 2 days a month, that is an issue already in and of itself and you need to pray! That means you are not truly totally dependent upon God.
As women of God this is where our success has to be predicated on faith in Him. Of course we do our part and work hard, but not at the expense of downtime, recreational family time, enjoyment and fun. We need that time to back away and not think about our work and/or roles as mother, business woman, wife, etc… When you allow yourself this time, it actually refreshes you and recharges your battery! Then you have even more to give out in the long run.
"And they rose up early the next day and offered burnt offerings and brought peace offerings. And the people sat down to eat and drink and rose up to play." -Exodus 32:6
Did you get that, they rose up to PLAY. Yes I know you have much to do, but do not forget how to play, enjoy, have fun and laugh! Remember the little girl in you again. Do not leave her behind. Since when does being an adult mean No Fun Allowed? It's okay, you're allowed. When others start to ask what has gotten into you, tell them LIFE!! Enjoying everything God has given you with excitement and smiles. Sometimes we get so bogged down with all of life's stuff, we forget we are supposed to be enjoying this journey.
"A joyful heart is good medicine, but a crushed spirit dries up the bones." -Proverbs 17:22
Remember to schedule in some FUN TIME. Do something you've always wanted to do. Make new friends. If no one ever invites you to a party, throw a party yourself! It's time to plan the fun back in your life and work.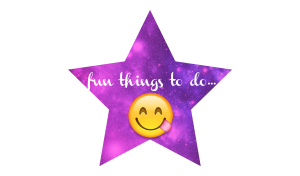 OTHER FUN STUFF!!
Have friends over for a barbecue
Go Bowling
A girlie fishing trip at the lake (I never knew fish fought back, 'til I went fishing with my hubby!)
Planner Party/Meet-Up
Vision Board Party
Grown Girlie Slumber Party
Lazer Tag
A Day of Shopping
Thrift Store Haul
Crafting & Wine Party
Couples Dinner at YOUR HOUSE!
Pamper Your Hubby Party (Couples Night: Wives pampering the husbands)
Saturday Bring Your Own Brunch Party
Couples Game Night
Pamper Wifey Party (Couples Night: Husbands cooking for and serving the wives)
Spoil Your Bestie (Surprising your bestie with a day of fun)
Waterpark with the girls
Outdoors movie night
Road Trip! (Go to a nearby city or town with some girlies: shop, eat & explore)
Paint Party
Join The Conversation On Facebook